Limited Too Closed
Tween Brands, Inc., the owner of Limited Too and Justice tween girl clothing stores, changed all their Limited Too retail stores to the Justice brand in 2008. Likewise, LimitedToo.com redirects shoppers to Justice.com. Save money on girls clothing, shoes, and accessories with our Justice Coupons.
Limited Too Coupons & Promo Codes
There are no Limited Too coupons available at this time.
Related Categories
Apparel
Apparel Accessories
Shoes
Teen Apparel
Related Coupons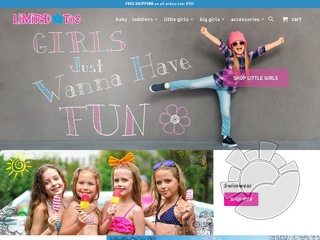 About LimitedToo.com
Limitedtoo sells trendy, fashionable and fun clothing for young girls. Beyond cool, these fashions reflect the style and attitude of today's girl. This is your premiere online shop for girls clothing, accessories, cosmetics and jeans, room decor and more. It's bold, bright and incredibly with it. Get online with the girl in your life or check out the world of gifts section for some brilliant ideas for her. Chances are she will not be disappointed in anything from this realm of girl-world and will think you are brilliant to have known exactly what she wanted!
Read more...
Whether it is swimwear, sleepwear, shoes, dresses, coats and jackets or even accessories like hats, sunglasses and belts, at www.limitedtoo.com you can find whatever your little girl is looking for. Perfectly sized, trendy jeans and tops are on offer with automatic advice for how to complete the outfits online. The website also offers great additions to any girl's room: frog or pig night lights, rugs, fragrances, cute travelling bags, diaries, mini-phones and DVD cards will give any girl's room the right look. Your girl will also want to check out some fantastic links to great girl info on some of the issues she is dealing with in her world in "being girl" section.
Close