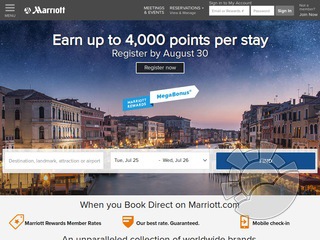 We currently have 10 Marriott Hotels coupons / deals.
About Marriott.com
When you hear the word Marriott what do you think about? The first word that pops into your head is probably hotel. If pressed to give a better description, you might add luxury, upscale, traveling, business, or even convenience to help describe what type of hotels this company owns.
Visiting their website at www.marriott.com allows Internet surfers the opportunity to find information, book a hotel room, learn about vacation and business destinations, shop in their Marriott.com shop and find out about their rewards program.
Read more...
This is a truly international company. Marriott hotels has over 2,900 different properties in nearly 70 countries around the world. They have been in business since 1927, so they really know how to make guests feel welcome and comfortable.
If you want to book a room, there is no faster and easier way to check for availability and reserve a room than to go to Marriott's website to do it. You can also make sure that you are getting the best price for your room by seeing all of the deals out there. If you are going on vacation and can choose what days you check in an out, you can sometimes save a lot of money! You don't have to call up to get a reduced rate anymore; if you have a special membership or need the government rate, you can enter the information online.
Maybe you don't know where to go, which is no problem because Marriott.com has that covered. They feature cities on their website, detailing the interesting places to go in the near future all over the world. Find out about celebrating Bastille Day in France in July, carnival in Rio during the spring and the Indianapolis 500 in the summer.
After your vacation is over, you can recreate the Marriott hotel room in your own home, by purchasing high quality furnishings. You can get the same fluffy bath towels, the artwork and even the same type of mattress that was in your room during your last vacation. "People first" is their goal, and whether you come to the Mariott on vacation, for business, for a wedding or conference, you will definitely experience comfort and quality.
Close