Outpost.com Closed
Originally called Cyberian Outpost, Outpost.com became known as Fry's Outpost.com after retailer Fry's Electronics purchased them in 2001. In 2008 Fry's discontinued the Outpost.com site, redirecting users to Frys.com instead. You can find current discounts and coupons on our Fry's Promo Codes page. We also offer tons of discounts and promotional codes for related stores that you can find on our Computer Coupons and Electronics Coupons pages.
Outpost.com Coupons & Promo Codes
There are no Outpost.com coupons available at this time.
Related Categories
Computer Accessories
Computers
Electronics
Home
Related Coupons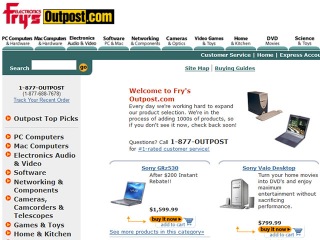 About Outpost.com
Cyberian Outpost was founded in 1995 and was one of the first successful online-only retailers. Outpost carries over 170,000 items. Outpost offers 24 hours, 7 days a week customer service and a 30-day money back guarantee for merchandise subject to manufacturer and/or Outpost.com restrictions. Their website is available in 11 different languages and they ship all over the world, with customers in 140 different countries.