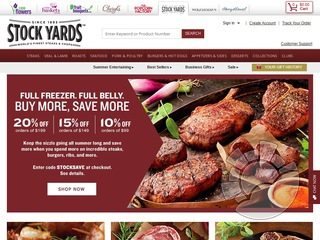 We currently have 1 Stock Yards coupon / deal including 1 promo code.
About StockYards.com
For over 100 years, Stock Yards has delivered the best steaks, meat and beef. The USDA Prime and USDA Choice steak they sell pleases steak lovers everywhere. Chefs around the country select Stock Yards for their restaurants and clubs because they know it is the best. They have been a family owned business from 1893 to 2000. In 2000 Stock Yards was acquired by US Foods, but they still deliver the same quality meats and superior service. At StockYards.com you will find steak, veal and lamb, seafood, pork, poultry and more. Experience their commitment to excellence for yourself.