Great Gifts for Gourmet Cooks
Those who enjoy cooking for family and friends love being the first to have the latest and greatest cooking gadgets and state-of-the-art cooking supplies. If you know someone who loves to cook, surprise that special someone with the cooking gadgets, tools, and equipment they want and need for their birthday, Christmas, Mother's Day, Father's Day, or any other holiday or special occasion. Giving the gourmet cook in your life the gifts they want is a great way to show how much you care, and it is a great way to enjoy the best gourmet goodies they are willing to share!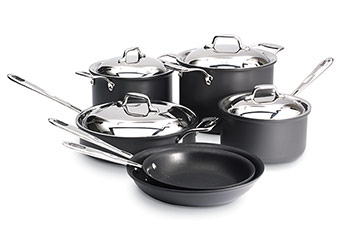 Calphalon Cookware
Gourmet cooks prefer cooking with the best kitchen tools and cookware available. Top-quality cookware heats evenly and stands up to continual use. Food is only as good as the cookware used in preparation, and even the most talented gourmet cook cannot achieve the best results when using inferior cookware.
For the gourmet cook on your gift list, consider choosing hard anodized cookware that will last for many years. Calphalon cookware is the perfect choice. There are sets available when shopping online, and they come complete with a Dutch oven, saute pans, frying pans, saucepans, and a versatile double boiler. Just about any gourmet cook would be thrilled with a high-quality cookware set such as this, and a premium cookware set is really a great value since it will far outlast cheaper sets that will require replacement again and again.
KitchenAid Stand Mixer
A quality stand mixer is a must-have for a gourmet cook. This kitchen implement can perform a wide variety of functions that save time while mixing ingredients, and it helps complete these tasks more efficiently than any handheld mixer. A stand mixer is also very easy to care for and clean, and contrary to popular belief, most stand mixers do not take up very much counter space.
For the gourmet cook on your gift list, consider shopping online for a KitchenAid stand mixer. The KitchenAid Artisan stand mixer has 325 watts of power and 10 speeds. The 5-quart bowl is perfect for mixing desserts, side dishes, and a variety of gourmet foods. It is available with a handsome stainless steel finish and a wide variety of classy colors. Choose this gift if you want to impress and thrill your favorite gourmet cook. A KitchenAid stand mixer is more affordable these days than ever before.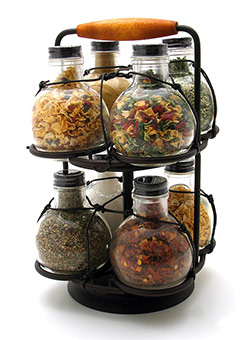 Spice Mills and Racks
Gourmet cooks strive to use the freshest spices, and a well-stocked spice rack and a spice mill are essential components in every gourmet kitchen. A stylish spice rack containing the freshest herbs and spices is a far better option than bargain spices sold in plastic bottles. Herbs and spices do not stay fresh indefinitely, and those sold individually can sit on store shelves for months while losing their strength and flavor as well as their enticing aroma.
Consider buying a spice rack and a spice mill for the gourmet cook on your gift list. Spice racks and spice mills are available in all sizes and price ranges, and both make wonderful gifts for any gourmet cook. Dried herbs and spices can be ground to perfection in a handy spice mill, and reusable spice jars are easy to refill with fresh bulk ingredients.
Power Juicer
Fruit and vegetable juices are key ingredients in many gourmet dishes, and a power juicer is the easiest way to extract those juices quickly and easily. With a power juicer, there is less waste, and the juice could not get any fresher or more flavorful. A power juicer saves time, money, and provides top-quality juice for gourmet dishes.
Choose a high-quality power juicer for the gourmet cook on your gift list. A top-of-the line power juicer will provide fresh juice to drink and to use in gourmet recipes, and your gift will surely be highly appreciated. Not only will the power juicer provide fresh and tasty juice, but it will also simplify work in the kitchen and save valuable time and money.
More Gift Ideas: