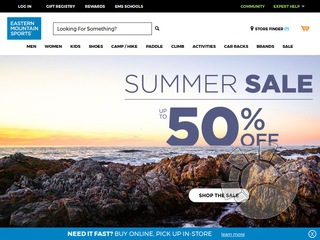 We currently have 2 Eastern Mountain Sports coupons / deals.
About EMS.com
EMS has everything you need for a rugged outdoor experience. Founded in 1967 by climbers who weren't happy with their equipment, they now have branched out and expanded their gear to include everything for outdoor active sports.
EasternMountainSports wants you to be completely satisfied with your purchase. Their line of goods includes quality brand names, such as Thule, Teva, Black Diamond, The North Face, Camelbak, E M S and K2.
Read more...
Get all the gear you want for camping, climbing, hiking and your favorite outdoor sports here. You can also purchase clothing that will perform well, and allow you to look fantastic and stay safe. It doesn't matter if you are into rock climbing, kayaking, snowboarding, camping, hiking, cycling, traveling, or snowshoeing, you can find the stuff you need at www.ems.com.
If you want to purchase a gift for someone who loves the great outdoors, you can easily search based on your budget, activity or who the gift is for. They will even give you a number of recommendations for someone who has everything.
Interested in learning more about a particular sport? EasternMountainSports.com has you covered. They offer specialized schools that will teach you the basics and more advanced skills. Want to learn how to kayak or how to camp in winter? Well go to their school!
EMS is the authority and resource on buying gear. They offer knowledgeable advice to anyone, whether you are serious about a sport or just starting to get into it. For example, if you are looking for a new pair of hiking boots, just answer a few quick questions and they will recommend boots based on your shoe shape and preferences. EasternMountainSports offers durable and fashionable gear for any one interested in the great outdoors.
Close