Graduation Gift Ideas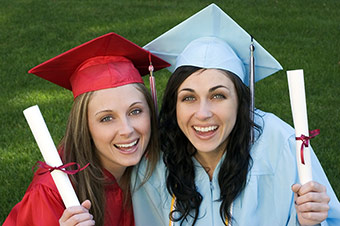 Few times are more exciting for a student than graduating, so of course, purchasing the perfect gift is essential to getting in on part of the excitement. Fortunately, so many different options exist that this is a simple task. In fact, it's even simpler to purchase the gift online.
Sentimental or Silly Gifts
Stuffed animals that are manufactured to allow autographs and come equipped with a special autographing pen or marker.
Stuffed animals that sing or play music. Girls especially love this type of gift, since it's cute and cuddly and it sounds nice.
Lots of helium filled balloons.
Books on how to survive living with your parents, living away from home, or something of similar content.
Practical Gifts
Gift cards for a variety of venues of interest to people in their age group, such as stores, movie theaters, electronic shopping, book stores and more.
Cash—include it in a new wallet, purse, duffle bag, or back pack.
Extra long twin sheets in a variety of fabrics and colors. This is the perfect gift for someone going off to college.
Personal size microwave, alarm clock, or mini-fridge. These are also perfect gifts for someone going off to college, and many high schoolers would like these for their bedroom too.
Pre-paid tickets to fun things he or she can do during the summer, such as bowling alleys, laser tag arcades, roller skating rinks, fast food restaurants or miniature golf.
Car accessories for students with a car such as a car emergency kit, customized seat covers, customized mats and more.
Personal Gifts
Tickets to a favorite sports team, band, theater, museum or other venue the graduating student is interested in.
Membership to a movie theater, athletic club, sports club, museum, theater or gym.
Custom made basket packed with candy and sweets, books and pens, sports memorabilia, or other things they love.
Theme basket customized to their unique passion. Purchase a basket that includes gift items that all follow the same theme, such as a Disney, music band or sports theme. The gifts can include things like a t-shirt, mug, key ring, deck of cards and slippers.
Buy the personal favorites of the graduating student such as their favorite candy, favorite band CDs, books by a favorite author, favorite vocal artist, favorite color in clothing, and whatever else comes to mind.
Membership in a once-a-month club that features music CDs, DVDs, or books.
Personal bath items, such as aromatherapy products, portable sauna, hand and foot spa, facial spa, foot spa, pedicure salon, or a basket containing conditioning creams, luxurious loofahs, purifying masques, bath oils, pumice stones and bubble baths.
Designer handbags in the size and style she prefers.
Popular Gifts
Wall plaques to commorate their graduation or other academic accomplishments.
Keepsake boxes to store their cherished items.
Photograph albums to keep all their school pictures in.
Picture frames for their graduation photo and pictures of their best friends from school.
Jewelry makes a nice gift for girls and boys. Consider cuff links, chains, necklaces or bracelets.
Digital cameras make a terrific gift, and they are more affordable than ever. For high school graduates going on to a university or college graduates moving to take a new job, a digital camera will allow them to send back pictures of themselves and their new surroundings via email.
iPods, PDAs, and other electronics are very popular with this age group, and they are useful for entertainment and organization.
Bath product baskets for females including luxurious loofahs, purifying masques, pumice stones, bath oils and bubble baths.
Out of the Ordinary
An online spending spree is one unique option. Give the student a specified amount to spend on the website of their choice, within reason. Rather than give the student your information, offer to place the order or purchase a prepaid credit card for his use.
The "hard to find" gift is another idea. If you know that the student is interested in something that is no longer made, do the legwork and search for it. Check second hand stores, eBay, antique shops, and flea markets for the item. Imagine the surprise and delight that you can create with a gift of this sort.
Religious Gifts
Statues, plaques, prayer books, bibles, crosses, crucifixes and rosary beads.
Religious jewelry such as necklaces, bracelets and pins.
Bookmarks crafted in pewter.
Books with inspirational or religious themes.
Whatever you decide to purchase, make the gift about the graduating student. It's important that he or she will like the gift. Think about all of the possibilities and then select the best one.
More Gift Ideas: