Gifts of Jewelry for Valentines Day
Giving jewelry for Valentine's Day is as personal as love and traditionally meant as a token of such. Yet, finding the right jewelry gift is almost an art in itself and many men often rely on bejeweled saleswomen at mall jewelry counters to help make their choice.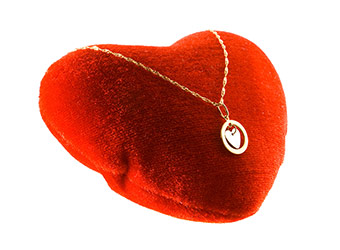 Typically, such jewelry counters boast trays of heart-shaped lockets and single diamond pendants for the February special $99 price. The following article can help you avoid the more typical jewelry offerings for something more unique and ultimately more special for your loved one.
Typical jewelry abounds at all pricing levels. That is not to say your average tennis bracelet is not beautiful, but for a certain age range it is a commonplace piece despite it's being none too cheap. Giving an extravagant piece of jewelry for Valentine's Day calls for romance coupled with some practical considerations. Will the lady in question have ample opportunity to wear her new jewels and will she even welcome an extravagant purchase over a more practical one? Consider her favorite gems, her preference for silver or gold, old or new. Are you shopping for a sparkling bauble or a sedate classic?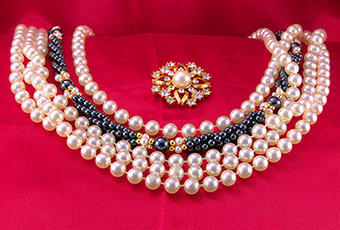 As you consider your wife or girlfriend's tastes you may also give thought to your own favorite pieces so that your gift becomes a thoughtful blend of the two. Also, avoid the trappings of the heart. This seems like a no-brainer for lots of men who think to show their love in love's undying heart-shaped symbol. Many a sixteen-year-old will swoon for that gold heart of love, but frequently older or more sophisticated women have outgrown the heart and long for something less juvenile. This is not always the case, certainly, and if you track down that classic piece of bakelite sporting the red heart and key (usually going for top dollar at auction) you may very well have a winning gift.
So what may you shop for instead of the heart? With jewelry you have multiple options in the myriad forms of necklaces, rings, earrings, bracelets, charm bracelets, lariats, lockets, chokers, pins, brooches and more. When choosing a piece give consideration to color, stone, size, etc...You might choose a birthstone or the stone for the month you met and even enclose a romantic note explaining your choice. A romantic idea might be to give a piece of replicated jewelry-something worn by a long ago queen for instance.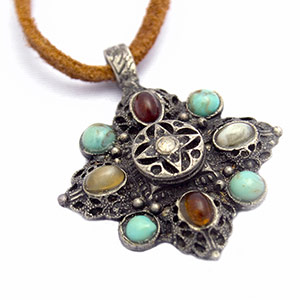 Custom made jewelry is not always as expensive as one might think. Jewelry artisans specialize in creating one-of-a-kind pieces and are often willing to work with a patron to create a unique design just right for the recipient in question. The internet makes contacting artists easier than ever. From wood rings to ruby-studded wrist-bands you can give a true original for Valentines Day.
Another option is to give a piece of vintage jewelry. Antique stores and internet auction sites feature the loveliest pieces of yesteryear's jewels. A strand of carved jet beads from the Victorian era, an enameled butterfly pin from the Art Nouveau period or a groovy rope of California love beads can be tokens of unsurpassed character and charm. Consider your loved one's tastes in previous fashion eras before doing any vintage shopping.
If you are running late and have to make a mad dash to the mall jewelry stores of department store jewelry counters, keep in mind that they have other selections besides the Valentine's Day rack. Consider a book-shaped locket instead of the gold heart or a unique charm bracelet you can add to on subsequent Valentines Days.
More Gift Ideas: