Safe Online Shopping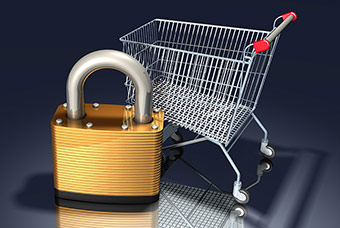 Many people shop online and simply assume their personal information is safe and secure, but there are some who refuse to shop online because they don't want to take a chance. Shopping online is a great way to find fantastic bargains, such as the coupon codes and discount promotions listed here on Coupons-Coupon-Codes.com, and those who don't shop online are losing out on saving money on the items they want and need.
Don't avoid shopping online because you're worried about website security, but at the same time don't ever assume your personal information is secure. There are easy ways to tell if a website is secure, and every time you consider shopping online, you should check for the following security signs before providing personal information.
SET and SSL Technology
Secure websites use secure sockets layering (SSL) or secure electronic technology (SET) to protect the personal information of customers. Both types of security will prevent hackers from stealing personal information, but they work differently.
SSL encrypts the information before it's sent into cyberspace. The information becomes scrambled, and hackers are unable to decode it. Only those granted permission to access the information are able to view it, and the information submitted is as safe as personal information provided by phone.
SET relies on an advanced form of cryptology to keep personal information safe and secure. An electronic wallet, digital certificates and signatures, along with bank information, guarantee confidentiality and privacy. Along with SSL technology and other safeguards, SET effectively secures online financial transactions.
Security Icons
Before submitting personal information online, take a look at the website address listed in your browser at the top of the screen. After the letters http, there should be a letter s. The letter s indicates that the page is secure.
In addition, take a look at the bottom of your screen. If you are using Internet Explorer, Firefox, Netscape Navigator 4.0 or higher, or other modern Web browser, there should be a closed padlock to indicate security. (Earlier versions of Netscape Navigator will display a key instead of a padlock.) If a closed padlock or an unbroken key isn't present, don't take a chance on submitting your personal information.
Privacy Policies
SSL and SET technology is highly reliable, but personal information isn't safe and secure if an online retailer doesn't store it in an encrypted form. Privacy policies should provide information on the type of security technology used as well as how personal information is stored and shared. Be sure to check the privacy polices of the websites you do business with to ensure your personal information is kept safe and completely secure while shopping online.
Fraud Protection
Many credit cards cover you with fraud protection, so you are not responsible for any unauthorized charges on your credit card. If you are really worried about using your credit card for Internet shopping, get a card with online fraud protection to give you extra peace of mind.
People that don't shop online because they are worried about security of their credit card information are missing out on great discounts needlessly. Technology such as SSL encrypts your private data, keeping it secure as it is transmitted to the merchant site. Simply watch out for the padlock icon on your browser window, to show that it is a secure site, before sending out credit card numbers or other personal data. Robust online security combined with fraud protection from credit card companies should give everyone the confidence to shop online, and take advantage of the super discounts listed here on Coupons-Coupon-Codes.com.
Now that you know about safe online shopping, learn more about coupon codes how to use them to save money and get grreat deals at Internet stores.
More Shopping Tips: