Gift Ideas for Cats
Many who consider their favorite feline part of the family want to include their pet in holiday celebrations. Those who deeply adore the cat in their life want to provide their four-legged family member with all of the latest toys, bedding, and original accessories. They bestow Christmas gifts upon their cat in the same manner as other members of the family, and the Christmas gifts they choose must be as special as the furry feline that will receive them.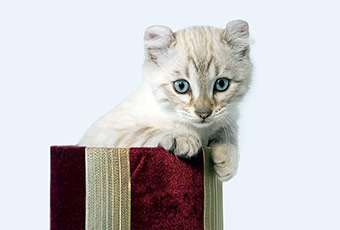 If a friend or loved one has a cat that's part of the family, or if you consider a very special cat a part of your family, don't forget that pet during the holiday season. There are fantastic Christmas gifts for cats in all price ranges, and you can assemble a variety of gifts that will keep your favorite feline purring with contentment all year long. Just about all of these suggestions can also be used for birthday presents for your cat, as well as other occasions.
Gift Basket Goodies
Anyone would love to receive a gift basket full of goodies, and cats are no exception. Choose a basket that's large enough to curl up in, include a comfortable cushion, and fill the basket with a variety of cat treats, toy mice, catnip toys, and grooming products. Wrap the basket with holiday paper, and secure the top with a festive bow to complete this fantastic gift that is sure to impress any cat as well as any cat owner.
Self-Cleaning Litter Boxes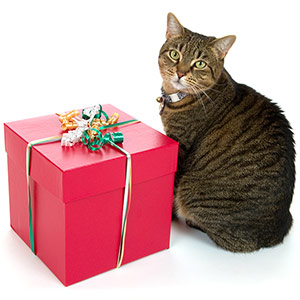 Self-cleaning litter boxes that automatically rake clumping cat litter into disposable waste receptacles are nothing new, but these innovative creations for cats and their owners have dropped in price considerably since they first swept the market. You'll love the cleanliness and convenience of a self-cleaning litter box, and so will your cat. Consider buying a self-cleaning litter box this Christmas for the special kitty in your life, or for the kitty of a friend or loved one. It's a great holiday gift that any cat owner would sincerely appreciate.
Kitty Condos
Kitty condos serve double and often triple duty, and a kitty condo makes a fantastic Christmas gift. Cats with claws can do what comes naturally and sharpen their nails on carpet covered posts and compartments instead of your furniture, and all cats can enjoy climbing and lounging on plush carpet covered platforms. After climbing and playing, they can sleep within cozy and comfortable cubicles. There are kitty condos to match every color, size, style, and decor, and they're well worth the investment. Kittens and cats of all ages absolutely love kitty condos.
Windowsill Seating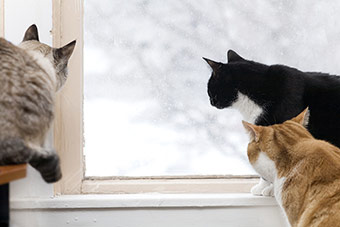 Cats love spending hours on end looking out windows at birds, passersby, and any movement that captures their attention. Give your special cat or the cat of a friend or loved one a front row seat that's as practical as it is comfortable. There are very affordable windowsill seats for cats that easily attach to almost every type of windowsill. The covers are removable and washable, and a windowsill seat is definitely a Christmas gift that any cat will love.
Tunnels
All cats enjoy searching dark and mysterious places, and collapsible tunnels are the perfect gift for cats and kittens of all ages. You'll love watching as your cat pounces in and out of the openings just as much as your cat loves jumping and running. Tunnels for cats are available in many styles, sizes, and prices. For Christmas, birthdays or other special occasions, give your one-of-a-kind cat, or the cat of a friend or loved one, a collapsible tunnel to enjoy and explore. You can't go wrong with this very special Christmas gift for a very special cat.
More Gift Ideas: