Herman Miller Aeron Chair Design and Options
The Aeron Design
The Aeron chair is unique in that it is not upholstered. Instead, a breathable, form-fitting material called a pellicle is used. This semi-transparent flexible mesh material, which takes its name from the thin skin or film that protects protozoa and allows them to retain their shape, distributes pressure evenly, allowing the user to stay cool and comfortable no matter what the temperature.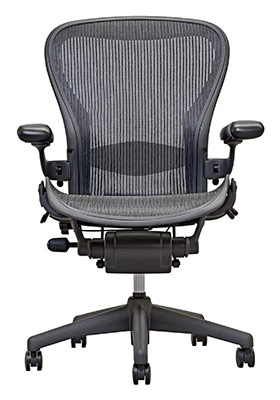 The chair moves with the user, anticipating the motion and working in synchronicity. The chair is available in three sizes – A (small), B (medium), and C (large), and because of the extensive testing that went into developing this chair, these three size selections cover the broad spectrum of body types. A sizing chart is available to use to determine exactly which size will best fit the user's height and weight with options ranging from 4'10" and 90 pounds to 6'6″ and 270 pounds.
Available Options
Herman Miller Inc. offers a variety of options on the Aeron chair. The basic model, which retails at around $700, is furnished with the Tilt Option I, a single-stage pneumatic with standard tilt. The basic chair also offers the user the ability to set the tension to recline and has an adjustment knob on the lower right side. This chair cannot be locked, however. There is no lumbar support on the base model. All Aeron chairs offer a 12-year, 3-shift warranty that covers all standard components as well as labor on all warranty work. The chairs are tagged at the time they are manufactured, and this tag is used to determine the chair's age for warranty purposes.
An upgrade to the Tilt Option III is available for approximately $200. This includes a single-stage pneumatic, tilt limiter and seat angle adjuster, adjustable arm rests, an adjustable lumbar support and casters. With this option, the user can recline in the chair, lock the tilt mechanism, or move the seat forward to accommodate using a keyboard.
The basic chair is available with either a graphite base and frame, or titanium base and smoke frame. An optional polished aluminum base and graphite frame is available at a significant upcharge. The base chair is shipped in classic carbon pellicle, but there are a variety of optional colors, including carbon wave, gray/black tuxedo, classic mineralite, zinc wave, and white gold tuxedo. Leather armrests are another option, and special carpet casters can also be purchased. The fully loaded Aeron chair retails for around $1300.
Proud college alumni can order their Aeron office chairs with their schools' logo or insignia embossed on the seat back. These special chairs are only available at Top Tier Designs, a website created by two Herman Miller executives.
Aeron Chair Design and Options